Are you struggling to find the ideal e-commerce solution for your website?
Need help choosing between the many and varied options out there?
Wondering which would suit your small business best?
Well, you've come to the right place. In this article, we are going to explain what an e-commerce platform is and why you should use one, highlighting some of the many advantages of having one on your website and using one in your small business.
Next, we will focus on some of the things you'll want to look out for when choosing a low-cost e-commerce website builder. Last but not least, we will take a closer look at 5 e-commerce website builders available on today's market.
We will compare them based on their merits and drawbacks, assessing them based on customer care, ease of use, pricing and any restrictions. By the end of this piece, we hope to be able to give you a better idea of which e-commerce platform is best suited to help get your business started with its very own first-class e-store.
Without further ado, let's dive in.
What is an E-commerce Platform and why should you use one?
An e-commerce platform is a piece of software which allows you to create an online shop and run a business online. It provides you with the tools needed to build and manage your site, including everyday operations and products. The great news is that you don't need skills in web development to set up a fantastic looking e-shop.
There are numerous reasons to use e-commerce platforms. Here are some of the more obvious ones:
They are easy for beginners to set up
If you wanted to create an online shop in the past you had to have developer skills to use a template and build the functionality yourself. Now, you can use plugins and get started straight away. 
You can easily use the drag and drop function to get started building your site on most platforms.
They are low cost web solutions
It is not expensive to use website builders and templates. Some e-commerce platforms are even free. Moreover, while an online store does cost a little to run, it is far more affordable than coming up with your own solution. 
Also, generally, the more you pay to maintain your site, the more technical solutions are available to you which can help you with your business.
All in one solution
When using this type of platform, you don't often need to deal with web hosting, themes, security and updates, or any of the more technical aspects of the website. Thus you are free to concentrate on growing and expanding your business.
There is customer support on hand should you need it
Another benefit of going with a commercial solution is that there is a built-in support structure that usually runs 24/7. If you use an open-source solution like WordPress the support is often reliant on a shared community so it isn't guaranteed that you will be able to get help. It is great to know you have access to help when you need it, at any time of day or night.
What to look out for in the small print when choosing a low-cost e-commerce website builder?
If you are beginning a business selling products, services or both, setting up an e-commerce site is vital. Choosing a platform which has already been developed for you can save you both time and money. However, there are a few things you need to look out for before plumbing for one of the many available options.
The first thing you need to consider is the cost. Most platforms charge a monthly fee. Prices vary depending on whether it is hosted or self-hosted. Remember to factor in processing fees when you make a choice, as well as making sure it's easy for your customers to make payments, to make sure there is no shopping cart abandonment. One way to make payment easier for people is to ensure the platform offers payment through a third party like PayPal.
You also need to look at the integrations, add-ons and plugins available. Most platforms will have lots of plug-ins and tools designed to help you run your business. Your business needs will determine which plugins and add-ons you will look for. Some popular plugins include email marketing tools, accounting tools to help with tracking sales and profits and applications to facilitate the shipping of goods. In a similar vein, you need to check if there are any restrictions placed on the number of products you can sell. You will also need to see if there are any shipping restrictions that apply and the number of sales restrictions there are if any. For example, some sites put a cap on yearly profits, as well as the number of products you are allowed to sell.
A platform's SEO capabilities are also important because you want people to be able to find you when they are looking for products similar to yours. A few things to consider are whether you can add a blog, whether customers can leave reviews and whether you can use your own domain name.
As a significant percentage of searches are now done on a mobile phone it's crucial to make sure it's easy for people to buy things on their phone. By the same token, you should ensure that there is a good customer support system in place so that you can assess help when required.
Lastly, make sure the platform you choose provides your customers with a safe and secure way to make transactions.
With these things in mind let's take a closer at 5 e-commerce platforms available today. We will evaluate each in terms of ease of use, how good the customer support is, the
number of product and/or sales restrictions the platform has, and the price of each plan. After reviewing each platform we will give it an overall star rating out of four.
Based upon :
Ease of Use
Customer Support
In-built restrictions
Cost
Ecommerce Platform No. 1 – Squarespace
 3/5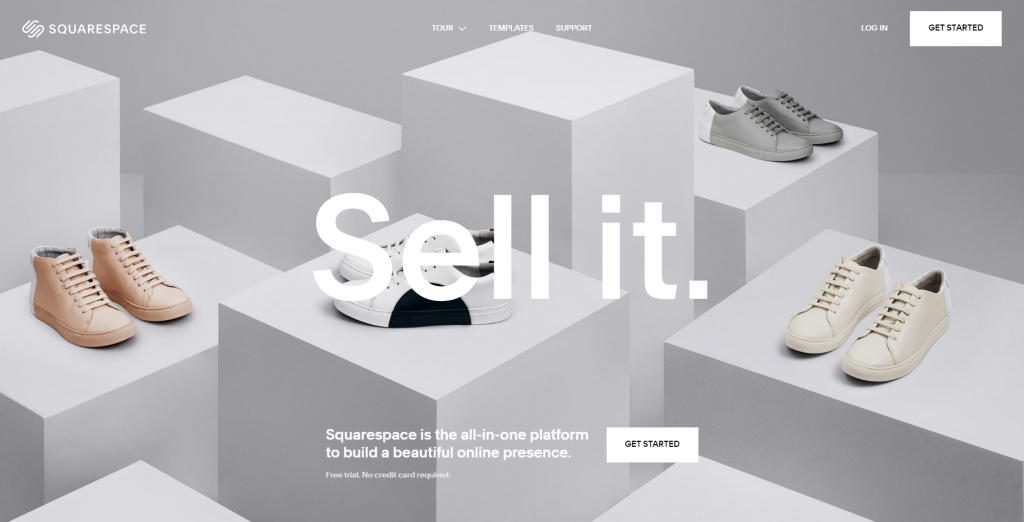 This is a website builder that operates with drag and drop, which makes it undeniably easy to use and beginner-friendly. There are extensive layout options which can help you create a great looking website without a steep learning curve. However, you may run into problems if you start building your website using one template and then try to switch to another later on. Squarespace is occasionally sluggish and can crash suddenly, which can be a pain. That said, it does still have one of the most intuitive content-management systems you can find. You also have lots of creative control. The customer support system for Squarespace is limited to live-chat and email. Phone support is unavailable. The customer support is friendly but by in large, they only deal with relatively simple issues. There are a number of different plans on offer (we have left out the Personal plan, as it doesn't allow the user to sell products). The Business plan costs $26 a month, the Basic Commerce $30 and the Advanced Commerce will set you back $46 a month, which is on the high side for a monthly fee. There are also transaction fees involved. On the positive side, all of these plans allow you to sell an unlimited number of products on your site. Also, if you pay for a year upfront the price per month for a Business plan drops to $18. Taking into account the ease of use, the lack of sales restrictions, the limited customer support and the relatively high price we have given Squarespace an overall rating of 2 out of 4 stars.
Ecommerce Platform No. 2 Volusion
 2/5
This is a cloud-based, hosted solution to building an online shop, which is also a drag-and-drop website builder. It integrates a lot of payment providers, has good product management tools and many themes available. It also has good 24/7 customer support and gives you access to many comprehensive articles. However, the structure is a bit confusing which can make this platform a little more complicated to use. This is because it has bandwidth limits. This means that if you use it all, you will have to pay for any additional traffic, which can make it difficult to plan ahead.
Moreover, there are sales restrictions in place, meaning you can only sell up to 5000 products on professional plans. In addition, profits you can earn are capped at $50, 000 per year. Costs of running your site on Volusion start at $29 per month for the cheapest plan. Additional costs will be incurred too, including the cost of an SSL certificate and the price of any additional bandwidth you may need, which can significantly increase the total cost of running a site. We have given Volusion an overall rating of 1 out of 4 stars.
Ecommerce Platform No. 3 SimpleShop
 4/5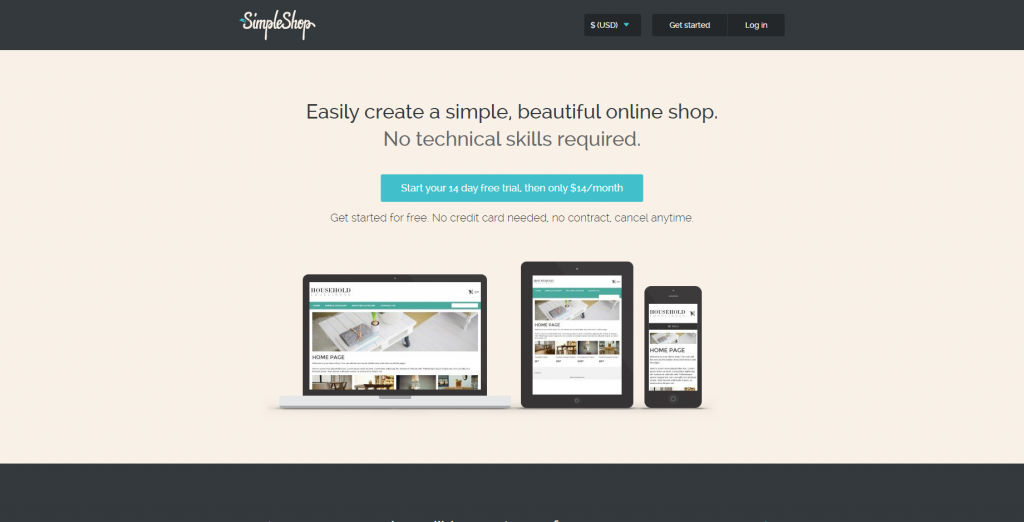 This is an easy to use platform in which you can create an excellent, stylish e-store. You are provided with a great inventory and order management tools and multi-channel purchasing in a single all in one solution. It is very user-friendly, layouts and templates are straightforward and you need no technical skills to get started. The customer support is very good and helpful. In addition its fantastic value for money at £9 a month. To top it all off, there are no selling or product restrictions to limit you or the growth of your business. We have awarded SimpleShop a rating of 3 out of 4 stars. 
Ecommerce Platform No. 4 Open Cart
 3/5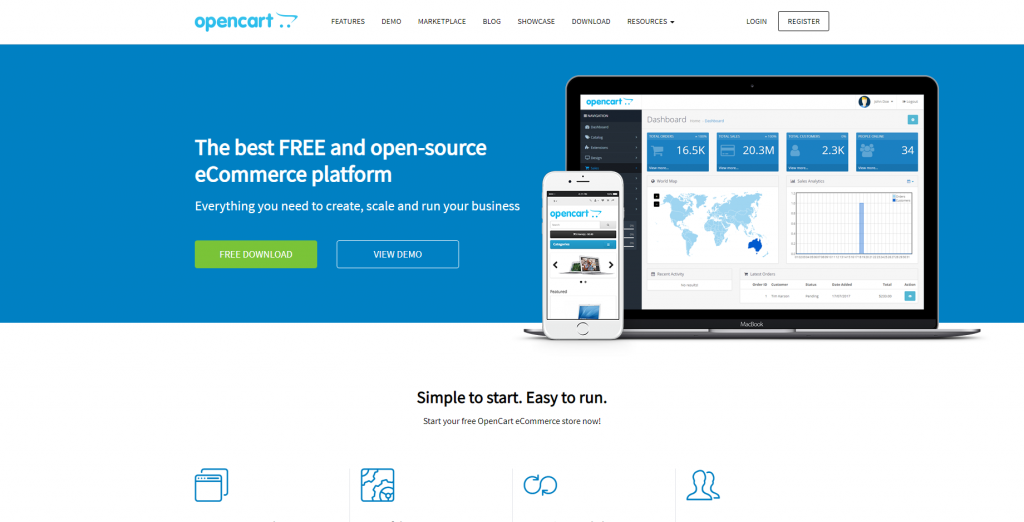 This is a cloud-based platform (with an open-source option too) that has everything you need to create and manage a first-class store. You can offer unlimited products, whether they be digital or physical goods. It also has lots of customisable features. As it is self-hosted and you have the advantage of running it on your own server. There is also a large dedicated support network to call upon at need. On the debit side, it is not easy to customise the features and adding modules to your site can cause costs to mount up. The SEO capabilities of this platform are also not the best. Prices start at $30 per month, which is at the higher end of the spectrum. We have given this e-commerce solution 2 out of 4 stars
Ecommerce Platform No. 5 3dcart
 3/5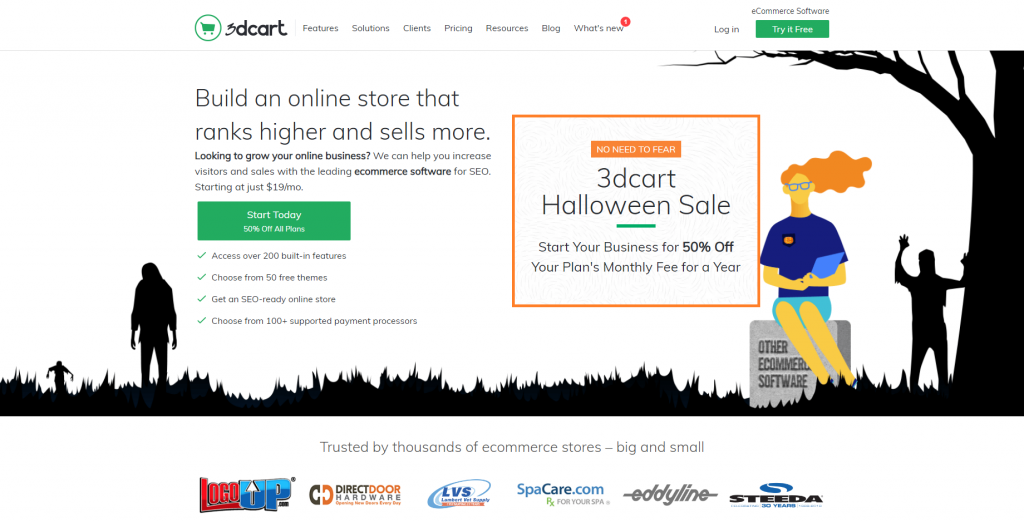 If you expect your business to grow quickly this might be the one for you. This is a hosted solution so you don't have to install software, it has a fantastic inventory system which lets you easily keep track of your sales and products. However, there is no mobile app, so you can't run the shop on the move, but it is a platform that scales up well if your business grows fast, and has excellent sales tools available. However, it doesn't have the most user-friendly interface and has a lower customer rating than some other platforms on the market. 3dcart's cheapest plan is $19.99 a month, which looks attractive until you realise that it only lets you have about 130 daily visitors to your site. On the middle plan, priced at $65.99 a month you can have up to 10,000 products in your score and can deal with a volume of 20,000 monthly visits. There are also a great number of templates you can customise and themes you can use to suit your brand perfectly. The customer support is good but can be somewhat limited. We have given 3dcart a rating of 2 out of 4 stars as it is not the most intuitive platform to work with.
Conclusion: Which E-commerce platform is right for your small business?
Ultimately then, which e-commerce platform should you use to help get your small business off to a great start? If you have no particular technical skills and want to get started within minutes, SimpleShop is for sure the way to go. It's really easy to set up a professional-looking e-store in a very short time with its user-friendly capabilities and it is great value for money. Another thing in its favour is that there are no product or sales restrictions which means you should easily be able to scale it up as your business becomes more successful.
It should be noted that deciding which platform will best suit you depends greatly on your specific business needs, so what works for one person may not always work for you. That being said, we hope we have given you the confidence to go forth and find the perfect e-commerce platform for you. Be sure to check out SimpleShop today to get your business off to a fabulous start.
Share on facebook
Facebook
Share on twitter
Twitter
Share on linkedin
LinkedIn
Share on email
Email