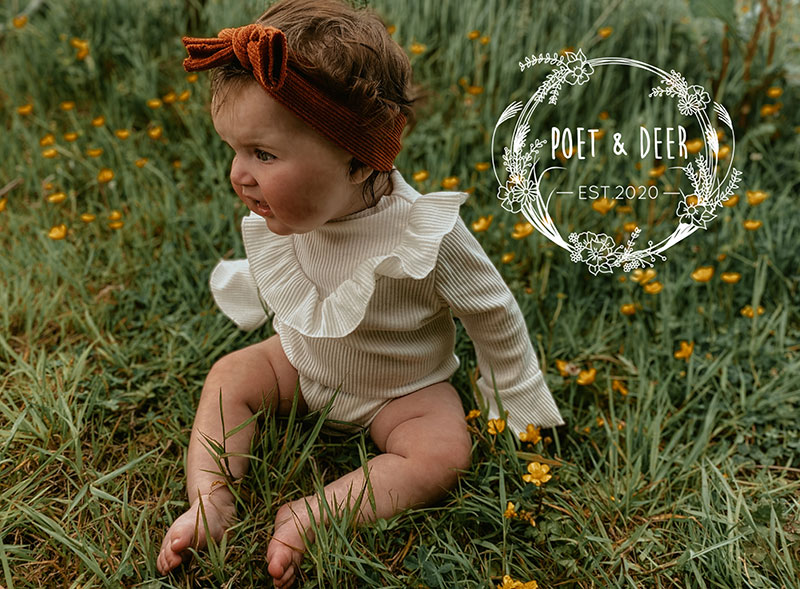 From time to time we'll be featuring a selection of our favourite SimpleShop stores.  Poet and Deer is an adorable baby clothing store that really caught our eye.  Here's what makes it a great store in our opinion:
A great brand name
A custom domain
Really good, clean design and colour scheme
Big, detailed product photography
Lots of product information
Laura's personality and passion come through
Want your store featured?  We only feature the best!  Contact us here.
Describe your brand and what you sell
Poet & Deer is a modern baby clothing and accessories shop, we try our hardest to keep up to date with the latest styles for your little one's wardrobe. We absolutely love babies in the comfiest clothes, so we try to always source organic cotton. We are big lover of muted tones – separating baby clothing by pink and blue is very outdated to us. To begin with we are releasing a girl's summer collection on June 15th 2020 followed a boys collection in July then finally the basics line which will cover everyone. We currently sell clothing age 3 months – 24 months and we have every intention to be stocking for older children sometime soon too!
What inspired you to start your store?
As a first-time mother I really struggled to find clothing I LOVED, I hated my little girl in overpowering pink tones or garish tops – I always preferred more gentle colours and lovely soft textures. During COVID19 my patience was running dry as everything was selling out of online shops and supermarkets super-fast due to lack of stock and I found myself buying my little girl clothing that I hated just because it was all that was left in shops in her size. I wanted quality products that could be passed down to her future siblings. Opening an online store is something I had always spoke about to my husband when I first became pregnant but after having my little girl in November 2019, that idea was completely pushed to the back of my head. I am sure everyone can relate to baby brain and the lack of personal time when a newborn arrives! During the pandemic I found I had more time as we simply could not go anywhere, my frustration with the lack of clothing that I like for my daughter really pushed me to go for it. The idea popped back into my head whilst lying in bed in the middle of the night and within a week I had all stock ordered, brand name picked etc. My husband works away most of the week and this just gave me something to be passionate about and it filled my evenings. It really took off from there and I have not looked back!
Are there any particular brands you look up to? What in particular do you think they do so well
My favourite brand would be Zara for children. I believe they are always one step ahead of other shops. They sell good quality clothing which are super soft. Their style and look that they go for is very up my street. Nothing too in your face, products that could definitely be shared throughout a family and last for years.
What have you learned since launching your store?
I have really begun to appreciate the time that goes into any form of art or design. Creating a brand takes time! I have gone over the same things and changed them multiple times, I've then looked back over the next day and changed it again a few more times. Images , fonts , colours , themes I could go on. Creating the website is easy but trying to create your own brand is hard with plenty of doubts . I have to tell myself no brand is perfect from the first day they launch – it's all about improving. I have discovered a passion for photography since launching my store. I could be driving down the road to get some milk and see something that I think would make a great photo for the store and pull over. I am finding new things every day that I didn't think I could ever do.
Why did you choose SimpleShop to power your store?
As a new entrepreneur my biggest worry is money and lack of experience. I had a massive of fear of paying big monthly repayments or being tied into a plan that I didn't have enough support with. I studied across most of the big names and compared them and just couldn't find who I wanted to start my store with. I began researching across small businesses on Instagram to see what they used, I questioned a lot of shops as I always wanted to start on a good foot. One girl was using one of the big-name companies but had mentioned she had been with SimpleShop before and was thinking about going back to it. I jumped at the free trial and give it a go. The pricing was super reasonable and the site was easy to use. The one thing that sold it for me was the customer service , they really could not help me more. Those who are there to help you really are so enjoyable to work with and nothing seems too big to ask! I love that I speak to the same people in the company every time , it gives SimpleShop a real personal touch rather than speaking to a new random on a webchat every time I need help with other companies. I cannot recommend them enough.
What ambitions do you have for your brand's future? What does the next five years look like?
Growth , growth and more growth. In the near future I want to begin to extend the age of children sizes we cover – up to aged 5. One big thing I can't wait to look into is nursery interiors and children's bedroom furnishings and decor. This is another passion of mine and I so badly want to cover this in our store one day. I want to establish a really good base with my customers and really learn how to run a business and provide the best care and personal touches. Rome was not built in a day. Hopefully one day this can be my full-time job and I think it's something that will make my little girl proud. I always picture her growing up and helping me with it , I've always dreamt of having a little family run business that can help others where we can!
What advice do you have for new ecommerce entrepreneurs looking to start out?
I think time is a big thing, just make sure you have the time and also the support from family and friends around you, if not becoming an entrepreneur will be hard. That support is what will really drive your company. Chatting to clients and getting to know them on a personal level is a big thing these days – Social Media marketing has really taken off and companies are putting more money into their budget for this every year. Opening an online store in this era is not as easy as buying stock and selling them on a platform. Engagement is so important and it really creates loyal customers. Plan the little things and personal touches that makes your company stand out. Most importantly have some confidence in yourself , so many times I have lay in bed thinking am I crazy what if this all goes wrong but I have to remind myself – well what if it doesn't?